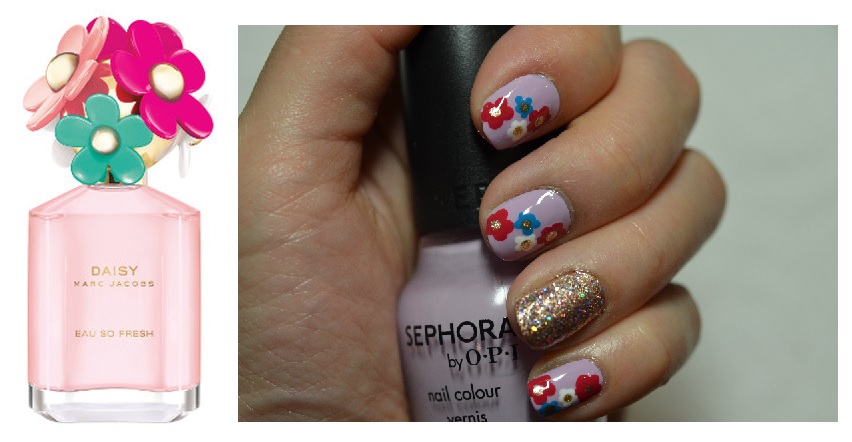 Hi my blossoming friends, today I want to share with you a super simple daisy nail art pictorial. This Marc Jacob inspired design kicks off as one of the first of my polka dots series. Throughout March I will be doing nail art tutorials that only requires dots hence it is super simple for beginners.
As you can tell these two weeks, I have been itching to get in the spirit of Spring and what's better to symbolize the beginning of spring than some beautiful blossoming daisy. You don't need much for this design, you only need a bobby pin or dotting tools. Let's get started!!
Step 1: Apply a base coat (Natural Nail Base Coat by OPI) to protect your natural nail.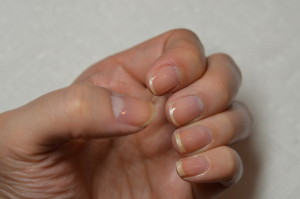 Step 2: Apply two coats of light purple (It's Hippo to be Square by Sephora by OPI) on all fingers except for ring finger. Apply two coats of gold (Keep Me on My Mistletoes by Sephora by OPI) on the ring finger.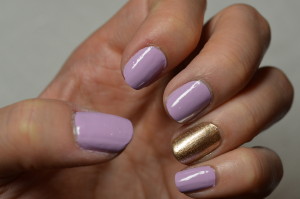 Step 3: Now it's time to create the flowers. Using the back of a bobby pin and dot the flowers using a magenta (Crazy for Chic by L'Oreal),  a teal (Blue Me Away by Sally Hansen) and a white (White one by Sally Hansen). For each flower, you dot 5 dots. You don't have to be too neat with the centre of the flower (see picture below) because they are going to be covered by the gold polish later. I also decided to make the teal and white flowers a little smaller to show depth and dimension. But you can do what you please, it is up to your own imagination.
Step 4: To finish off the eye of the flower, you just simply dot the gold polish (Golden-I by Sally Hansen) in the centre and I can guarantee you the flowers will look neat and perfect once you finish this step.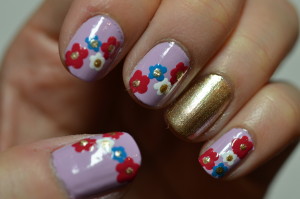 Step 5: You know I have to put glitters on my accent nail. So here I layered two coats of the multiple colour glitter (Strobe Light by Sally Hansen) on top of the gold.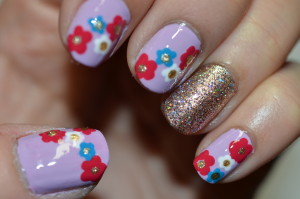 Step 6: Apply your favourite Top Coat (Seche Vite) to seal in your design and add a beautiful shine!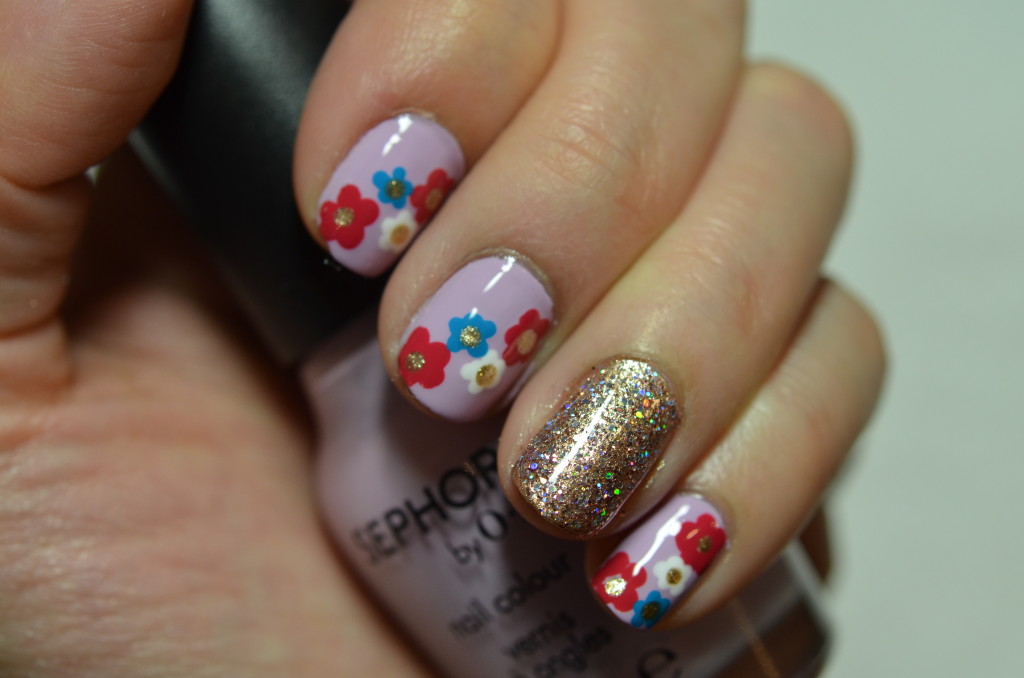 Then you are DONE!!! This beautiful design is super easy to do and elegant, you can wear it to any occasions. I am looking forward to see your recreation so please share them with me on my GlitterMommy Facebook Page. I love to know what you guys think. If you want to get the latest update on GlitterMommy, please like my GlitterMommy Facebook Page and my GlitterMommy's Instagram which is GlitterMommy_Official and #glittermommynailart.
Thank you very much for reading and I will see you guys tomorrow!