Welcome to my very first Come Taste with Me series. Every Friday, my husband and I (including the baby (7 months old) but he wouldn't be able to taste anything anytime soon unfortunately 🙁 ) will venture out to try different restaurants. Before having kids, we love to try out different restaurants every now and then and now 3 of our kids are in school, we are very excited to be able to get back to our old ways. In addition to this blog series, it definitely gives us even more motivation to do so.
Let's our journey begin!!!! If you are more of a visual person, I actually do first impression facebook live on the restaurant, if you want to re-watch the footage, check out my facebook page here. 
We are going to start our adventure off in our own backyard.  We decided to drive to Carlisle which is only 8-10 minutes from our house to try a quaint little restaurant called Cascata Bistro.
We actually have no idea what to expect because I did't even go online to check them out or read any reviews (I know we are very brave but I really don't want to be biased). We didn't even make a reservation (I know, ballsy of us :P). Luckily we went there just after 2pm so the lunch crowd just died down so we literally can pick whereever we want to sit with the baby.
The inside of the restaurant is definitely not what I would expect in a good way. The outside of the restaurant looks like an old fashion home (100+ years old) but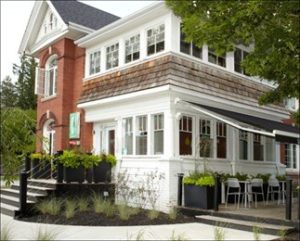 the inside is so bright and artsy, every room has its own vibe and character. I love how the two mixes together so seamlessly.  I actually didn't go into the bathroom during my visit (duh newbie food blogger 101), but after some digging around on the internet, apparently the owner's bike was hang on the wall in a very artistic manner and it has a story behind it too. (oh well, live and learn)