Welcome to my very first Come Taste with Me series. Every Friday, my husband and I (including the baby (7 months old) but he wouldn't be able to taste anything anytime soon unfortunately 🙁 ) will venture out to try different restaurants. Before having kids, we love to try out different restaurants every now and then and now 3 of our kids are in school, we are very excited to be able to get back to our old ways. In addition to this blog series, it definitely gives us even more motivation to do so.
Let's our journey begin!!!! If you are more of a visual person, I actually do first impression facebook live on the restaurant, if you want to re-watch the footage, check out my facebook page here. 
We are going to start our adventure off in our own backyard.  We decided to drive to Carlisle which is only 8-10 minutes from our house to try a quaint little restaurant called Cascata Bistro.
We actually have no idea what to expect because I did't even go online to check them out or read any reviews (I know we are very brave but I really don't want to be biased). We didn't even make a reservation (I know, ballsy of us :P). Luckily we went there just after 2pm so the lunch crowd just died down so we literally can pick whereever we want to sit with the baby.
The inside of the restaurant is definitely not what I would expect in a good way. The outside of the restaurant looks like an old fashion home (100+ years old) but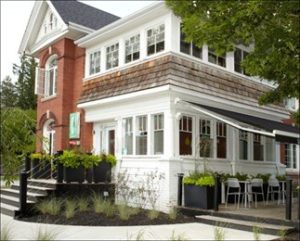 the inside is so bright and artsy, every room has its own vibe and character. I love how the two mixes together so seamlessly.  I actually didn't go into the bathroom during my visit (duh newbie food blogger 101), but after some digging around on the internet, apparently the owner's bike was hang on the wall in a very artistic manner and it has a story behind it too. (oh well, live and learn)
First, we were greeted by the owner, Angela Checchia, and learned that most of her dishes are homemade. After coming home and did a little research on the restaurant, she actually believes in the farm to table concept (which is right up my alley) and applies the 100 mile market supply philosophy (only use produce within 100 miles radius if their menu allows). She also has something called "The Board"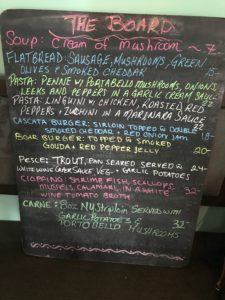 to showcase her daily good finds which I really dig because nothing tastes better than fresh.
Unfortunately folks we didn't order any wine since we are not wine drinkers plus I am breastfeeding so definitely no drinking for me (sorry peeps that like to drink, can't give you any comment on that).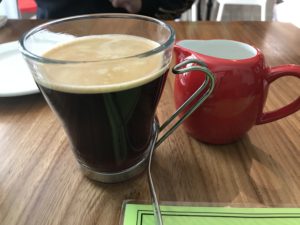 But I did order a decaf coffee and it was out of this world. Seriously I pride myself (or my cuisinart) for brewing some really nice coffee but her decaf was pretty amazing. For $2 and unlimited refilled, it is a tremendous value. I would go back just for the coffee!!!
Then we ordered a Calamari Fritti ($15) as the starter, it was not greasy and the calamari was very soft and not chewy.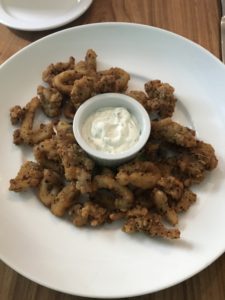 But it isn't something worth writing home about and the homemade lemon dill sauce wasn't anything spectacular either. I guess I have had better ones out there.
My carnivore husband ordered something on "The Board" which is the Boar Burger ($20)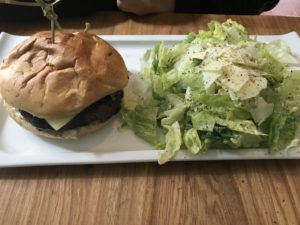 as his main. It was topped with smoked Gouda and red pepper Jelly.  It also came with the Romaine Di Cascata on the side (Romaine lettuce & creamy garlic lemon dressing with parmigiano petals).  So let's break it down, since it is boar meat, it tasted a little gamey (which is expected) but the patty itself was on a drier side. I think the patty is a little thin for its price, if it were to be thicker I think it would've been less dry. On a positive note, their red pepper jelly was so amazing, it works so so cohesively with the boar meat. I love the sweet and salty bite and now thinking about makes my mouth water.
The salad also tasted really good with very fresh ingredients. All in all it was good!
As for me, I ordered the Euro Cobb Salad ($16)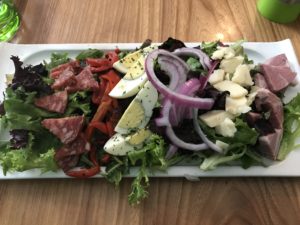 (Mixed greens, salami, Capicola, Asiago, hard boiled egg, sun dried tomato, red onion in a balsamic vinaigrette) as my main after my workout. I had my eyes on this salad because of the hard boiled egg as my protein.  First of all, the portion is huge, I can't even finish the salad. I really enjoyed the mixed greens, I love the variety. In addition, all the ingredients are very fresh and all the cold cuts there are thicker in slice which I enjoy. However, I can't really taste the vinaigrette, it would be nice if the vinaigrette cuts the saltiness of the meat to balance the palette.
But it was really good and great value.
How can you leave without ordering a dessert at 3pm? I asked Angela which one she would recommend, she said all the desserts are mostly homemade and both Tazza di Crema Balsamico ($8) (Rich custard that is like the inside of the truffle) and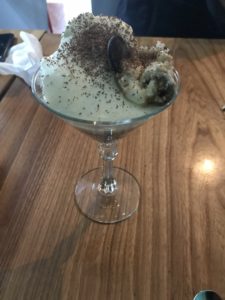 Tiramisu ($9) are made in house today. So I zeroed in getting the Tiramisu and it did not disappoint. My husband does not have a sweet tooth and definitely not a big fan of Tiramisu said he would eat that again and it's worth every penny. Angela also mentioned that it is a recipe from when she was 16 years old so I think she perfect it to the tee. I really enjoy each creamy bite. If you ever go to Cascata, you should try their Tiramisu.
In conclusion, we had a wonderful time at Cascata. We enjoyed Angela's service, the food is mostly on point, the coffee and desserts are to die for. I would totally invite my girlfriends over for a little lunch date and definitely go back to try different items on their menu.
Cascata Bistro
281 Carlisle Rd,
Carlisle, Ontario
289-895-7986
Thank you so much for reading! If you are interested in my first impression on Cascata in a video format, you can go to my facebook page here to check out my facebook live.  Also, please suggest in the comment section where do you want to see us eat next?
**Disclaimer: We are by no means foodie, we are just adventurous people who enjoy eating different food. Also, we paid the entire meal with our own hard earn money and all the opinions are our own.