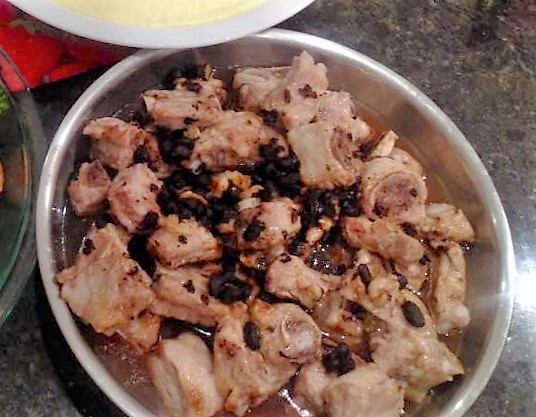 Today I would like to share one of my family favourite recipes with you all. This dish totally brings me back to my childhood because when I was young, we eat it at least once a week. It is a very easy, tasty and fast dish to put on the dinner table.  If you are interested in how to make this traditional Chinese dish, please keep reading…………………….
Ingredients:
Pork Ribs – 800g
Low Sodium Soy Sauce – 2 Tbsp
White Pepper – 1/2 tsp
Sugar – 1/2 tsp
Garlic – 2 Cloves
Preserved Black Beans – 2 Tbsp
Corn Starch – 2 Tbsp
Directions:
1.  Evenly cube the pork side ribs then marinated them with low sodium soy sauce, white pepper and sugar for 10 to 15 minutes
**Tips: You can save time by marinating the ribs the night before
2. Add the minced garlic with the washed preserved black beans. Then mash them all together and set them aside.
3. Now add the corn starch with the marinated pork ribs. The aim is to lightly cover each piece with corn starch. Then add the minced garlic and preserved black beans mixture to the pork ribs and mix them together.
**Tips: If you like the dish spicy, you can slice some fresh red spicy pepper into the marinate.
4. Evenly distribute the pork ribs onto a flat plate to ensure they cook evenly. Steam them in boiling water for 15 minutes.
It's that easy! Give it a try and let me know how it goes on my GlitterMommy Facebook page.
Enjoy!!
XOXO
GlitterMommy