Hello my gorgeous friends, I will be introducing a series on my blog called Fitness Friday. This is a 12 weeks series that documents my body transformation (in a positive way hopefully) through different workout programs that I follow.
Let me give you some background of my current fitness level before starting this series. I have joined the Stroller Fit classes with The Fit Life with Tabitha in Burlington since June of 2014. In the summer time, I go on average about 3 to 4 times a week depending on weather and now in the winter we have 2 classes a week indoor. If you go to her website and check out the workout videos, we will know that it is not your typical stroller fit class, there's no "stroll" involved. We actually do cardio in many forms with our stroller and more importantly, we do strength training to target our post pregnancy problem areas. I am proud to say with the help of the Stroller Fit classes, I have lost majority of the weight scale wise but I haven't been back to my pre-twins pregnancy weight yet. Despite of that I fit back into my own clothes 100% but the scale wouldn't show because I have been building muscle (because muscle is heavier than fat and muscle is much more compact).
My goal for this series is to re-shape my post twins pregnancy body to the way I want it. I want to feel super confident when I put on my favourite bikini. Trust me, I am secure about how I look now (otherwise I wouldn't be showing you my before picture). If I have to look like this forever, I am okay with it too because this body produced 3 beautiful children, the stretch marks and cellulite are just battle scars for me to show I have this wonderful experience of carrying babies. I love my body and I just want to improve on it. More importantly, I want to be healthy and fit for my husband and kids. I think setting a realistic goal and formulating a plan to achieve it is important for my kids to learn. In addition, I would like to try different kinds of exercise classes that is offered in Burlington and be able to give you my "first impression" on them.  Lastly, I want to show other mommies out there that it doesn't take long to workout on a daily basis. Stroller Fit takes 1 hour and the best part about it is I can workout with my babies (I remember how protective I was when I first gave birth to my daughter and twin boys). I honestly wouldn't trust anyone to take care of my kids and Stroller Fit allows me to do an intense workout with my kids (the best of both worlds).
In the following 12 weeks, I will be updating you guys on my progress and I will take weekly picture of myself so we can compare. Hopefully I can show you all some progress so you can see the difference (like toned abs, stronger arms, toned legs, etc).
What do I do in the 12 weeks?
I will be working out from Monday to Friday (or 5 days a week depending on classes availability) and resting on the weekend (or 2 days). I have Stroller Fit on Tuesdays and Thursdays, so on Mondays and Wednesdays, I will be following Kayla Itsines' Bikini Body Guide.  Finally, on Friday if there's exercise classes that interest me, I will do that as my workout. If not, I will keep following Kayla's BBG program.  I found Kayla's workout through instagram, people that follow her program has really great results, that's why it perked my interest to try it. Also, her program is super convenient because it's an ebook, you can download it and workout anywhere even if you only have your phone with you.  If you are interested, you can go to her website to download her free 7 day trail to test it out for yourself.
Jan 5 to Jan 9, 2015
Workout Routine
I started the aforementioned workout programs on Monday (Jan 5, 2015) and as of Friday (Jan 9, 2015), I have been working out for 5 days straight (very proud of myself).
Monday – Kayla's BBG
Tuesday – Tabitha's Stroller Fit
Wednesday – Kayla's BBG
Thursday – Tabitha's Stroller Fit
Friday – Kayla's BBG
Eating
I cooked majority of my meals, and we rarely eat out. If you guys are interested in what I eat exactly, I can post it for you for next week.
I have been eating somewhat clean this week but I think I could improve like cutting out sugary treats completely.
General Feeling
Kayla's BBG program is pretty intense even on the first week because you have to do the workout consecutively within 28 minutes. However I endured it and felt very satisfied after sweating it all out.
Even though I have been working out with Tabitha for over half a year, her workout is still pretty tough because she always changes it up. I can never remember her routine because of she offers a wide range of exercises and sometimes she even comes up with her own. I especially like how she will show you modifications for different fitness level. I always look forward going to class because it's never the same.
On Tuesday morning, I came down with a cold (runny nose, minor headache and all) but I still push through finishing SF and the cold got worst on Wednesday as my nose became a faucet and it was absolutely stuffy. I told myself that probably after the workout, I will feel much better. You guessed it after the Kayla's BBG workout, I did feel much better and my sinuses were all clear which is a bonus.
After 1 week of exercise
Here's my Before and After 1 week of workout pictures: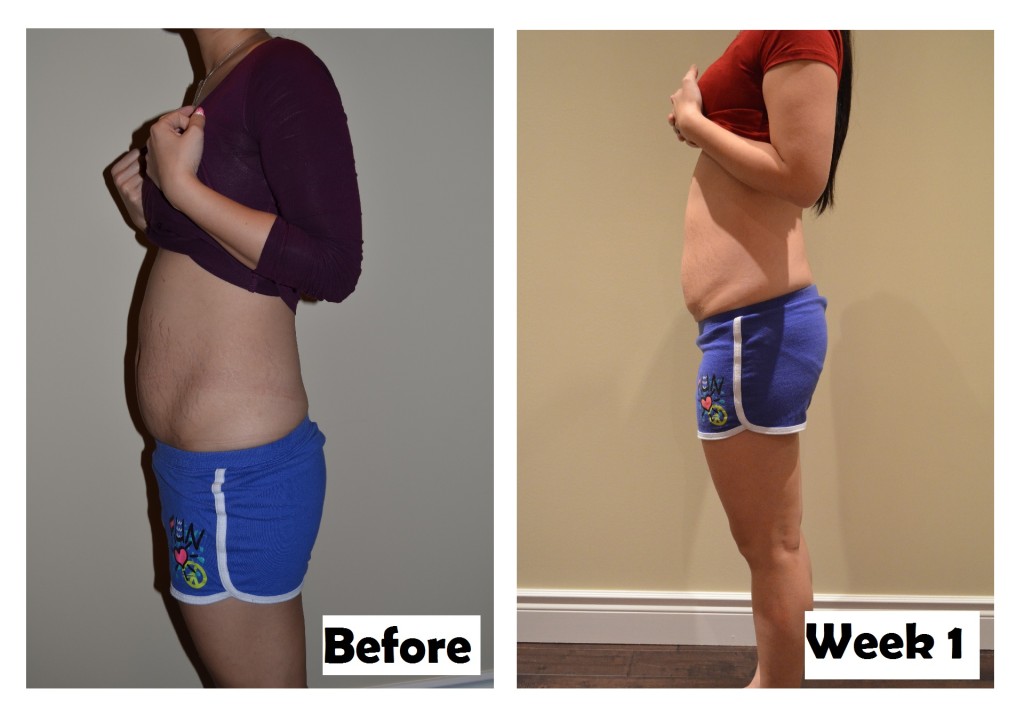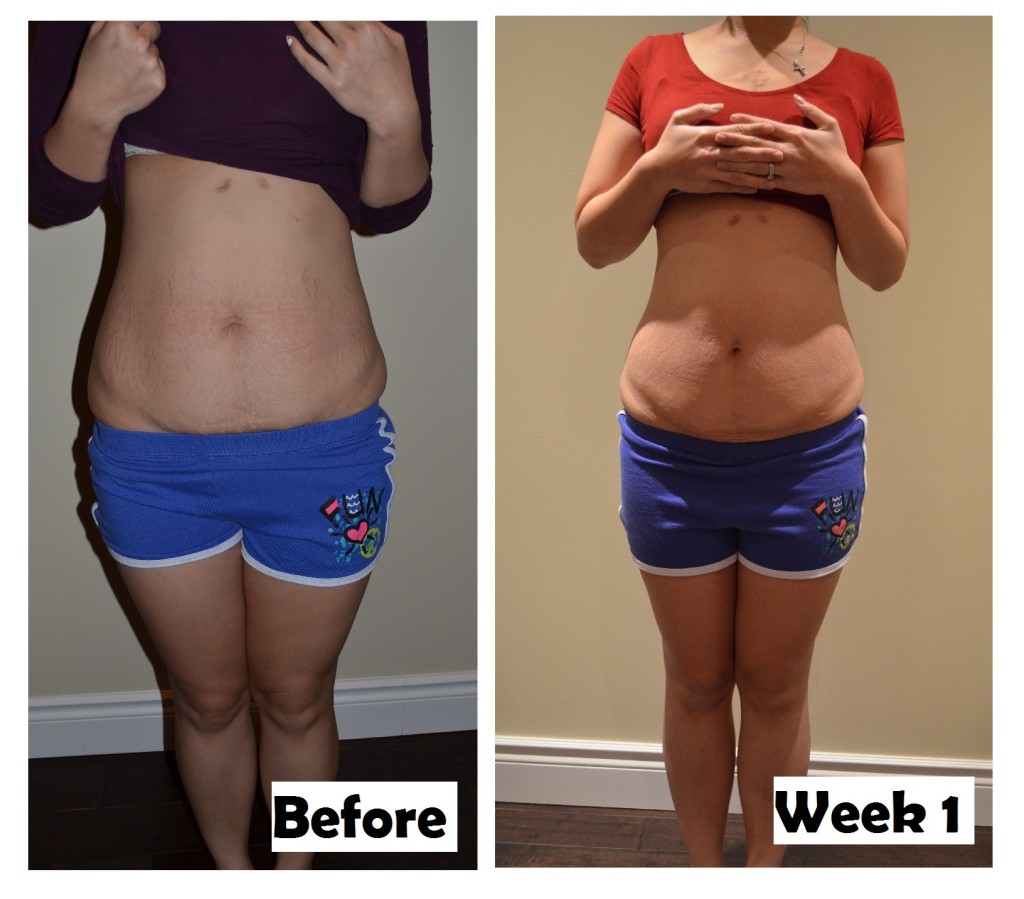 I can see that my belly went down a little bit from the profile picture and from the front, it looks like my waist got a little smaller but not substantial. I honestly do not expect to see a complete transformation in a week's time. I understand it takes time to tone up so I can't wait to challenge myself again next week.
What's Next?
Next week I will be doing a similar exercise routine as last week and I will try my best to eat cleaner. If there's any yummy yet healthy recipe that I come up with, I will definitely post them up for you guys.
Until then, Stay Active, Stay Healthy and Be Happy! Have a wonderful weekend!
Disclaimer:
I am not a fitness guru and I don't have a supermodel body. I am just another a real mom that is blessed with 3 awesome kids.
Prior to starting any exercise routine, you should consult your doctor. Everyone's body is different so what works for me may not work for you. Please stay safe!