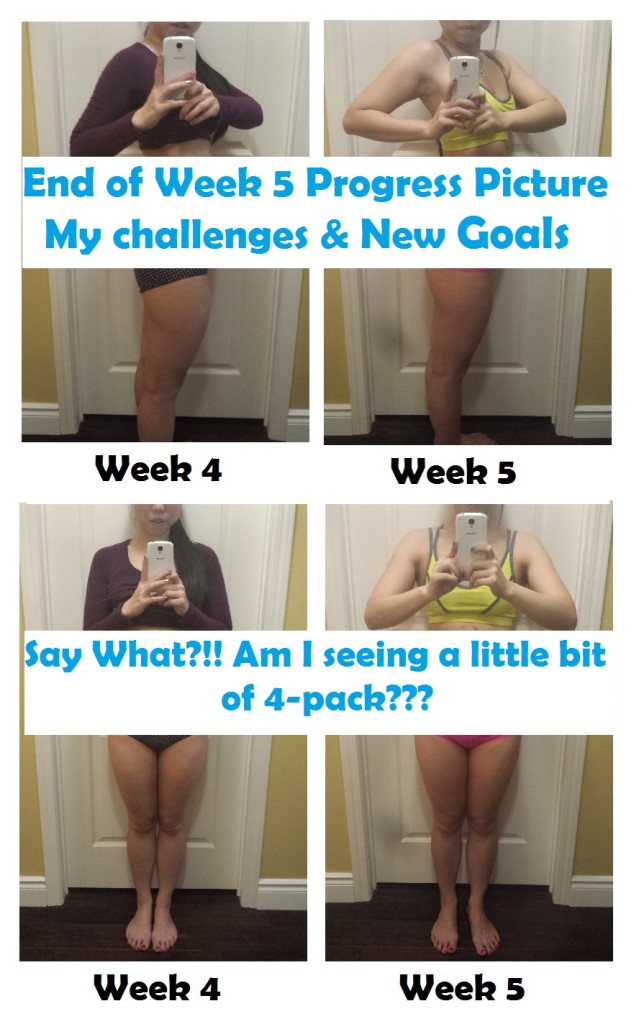 Hello my Sparkles!!! Welcome to Fitness Friday end of Week 5 progress update! How is everybody doing this week? Have you been following your workout routine? Have you been eating well and fuel your body with nutritious food? These are the questions that I ask myself almost everyday. I am starting to have a deeper understanding of this 12 week challenge. It is no longer about having that 6-pack for the summer even though it could be the positive spillover of it but this journey is all about creating that healthy habit and discipline through exercising and eating right for life.
What Have I Learned this Week?
I am never an advocate for diet plans because I can never follow them for the life of me. It's way too stringent and not realistic. I always couldn't find the ingredients that the diet plans call for then I decide I am going to give up (I know you have been there). Also, you just can't follow one or two diet plans for the rest of your life because it's not realistic which increases the chances of failure. .However, I found I learn best when I understand the concept of the diet plan. I feel like I get more autonomy, I can substitute ingredients if need be. In addition, I can start spinning off those recipes to things that my family likes. With those knowledge in hand, I can follow that LIFESTYLE (not diet plan) for the rest of my life.
In these short 5 weeks, I honestly feel like I started to develop a habit of exercising and eating right. I can't say I eat clean 100% of the time but I do try my very best (that's all I can ask for). If I miss an exercise, I would feel sluggish for the day and in my mind I actually crave that workout so I will do whatever it takes to squeeze it in. Learning how to eat right is the most challenging and fun for me. I wasn't raised in a family that's all about health, so I am not predispose to any of those information but thanks to Mr. Google and my awesome Stroller Fit Coach, Tabitha, I learned so much more. I feel like I am in control of my exercise and more importantly I am in control of my own eating. I don't eat just for the sake of eating anymore. I ask myself how this food is going to fuel my body, is it good for my body or is it just something that taste good but not much nutritious value to it? Obviously everyone's body is different and their goals are different so what you put into your body is different but it's about the MINDSET. I feel like what I am doing right now, I can do it for the rest of my life!!
My Week 5 Workout Plan:
Progress Pictures: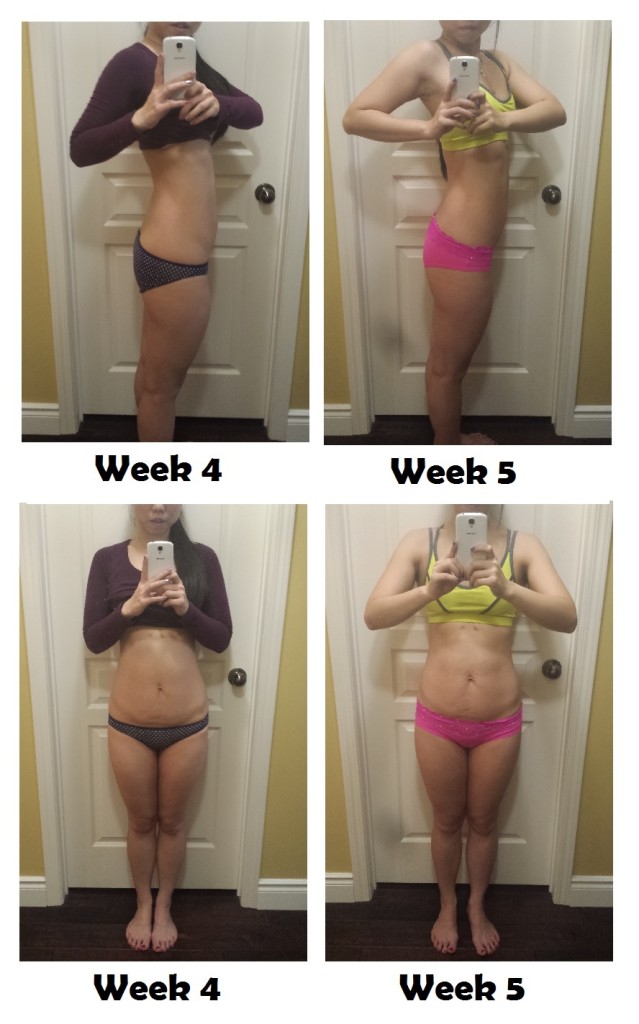 For the past 4 weeks, I always see the biggest difference in my profile pictures but this week I can't see much of a difference between week 4 and 5 except I guess my butt looks a little perkier (thanks to Tabitha's double lunges). In week 5, I believe the difference comes from the belly shot. Honestly, I still don't have any definition but I think i am seeing a mini 4-pack in the making. Is it lighting or is it my illusion? But I am going with I am seeing the 4-pack developing. I am just so excited to see some improvement and that totally keeps me motivated. I can't wait to challenge myself more to unearth my abs under the layers of fat 🙂
New Goals
I always believe in having a goal in doing everything, it gives you direction and purpose and this fitness series is no difference. I love to challenge myself because I feel that if I don't push the envelope, I will never improve. So my new goal is to be able to hand stand. It is definitely not something that can be trained overnight, it takes discipline, perseverance and strength mentally and physically.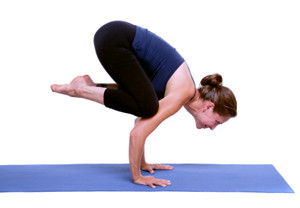 The first step to getting to doing a hand stand is by practicing the crow pose (if you are not sure what crow pose is, you can see it on the left). I am definitely not there yet but I am practicing the basic of the pose. I will update you guys as I progress weekly.
Thank you very much for reading! I can't wait to share my progress of my goal with you all next week. Please share with me on my GlitterMommy Facebook Page what are your fitness goals? I would love to know what you guys want to achieve.
Good luck and Have Fun Working Out!!!