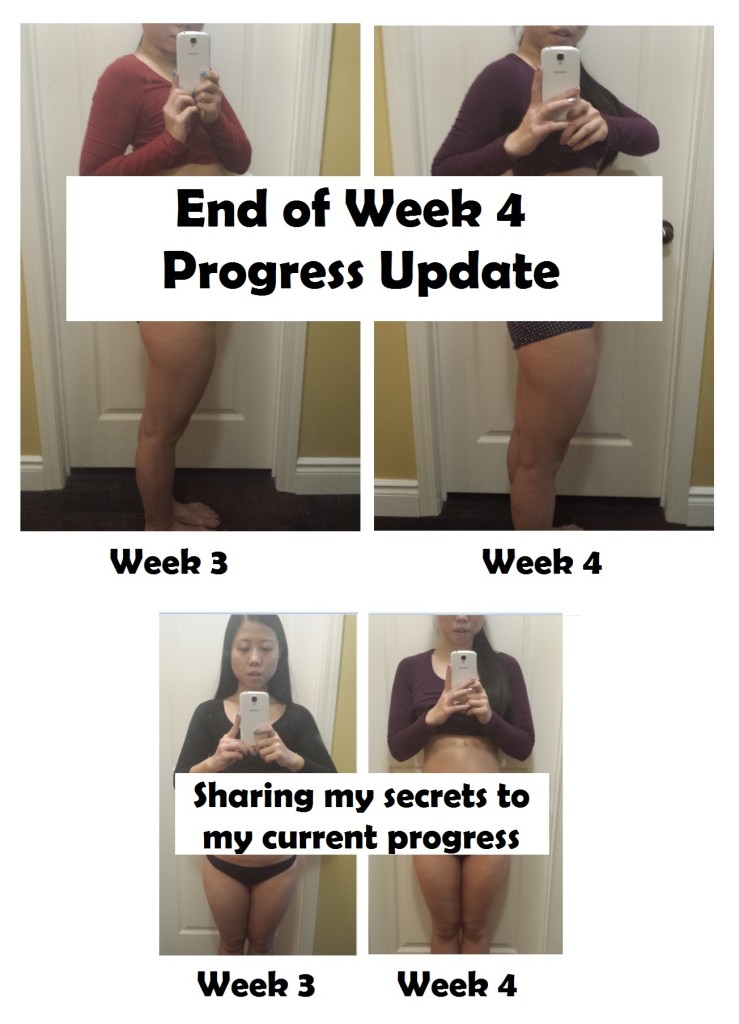 Hi my fabulous friends!! Welcome to Fitness Friday and the first day of Spring. It is just so fantastic knowing Spring is finally here. I can't wait to take the kids outside and breathe some warm fresh air. On a side note, my twins have never been to a playground (they were in the stroller last year because they can't walk) but this year they will be out and about trying everything. I can't wait to see how they interact with other kids and Princess A.
OK, back to my week 4 progress. My exercise regime didn't change much from last week and here's what I have done:
Monday – Kayla's BBG Week 4 Day 1
Tuesday – Stroller Fit with The Fit Life with Tabitha
Wednesday – Kayla's BBG Week 4 Day 2
Thursday – Stroller Fit with The Fit Life with Tabitha
Friday – Kayla's BBG Week 4 Day 3
What have I learned this week?
Even though I have seen pretty good progress in the past 3 week, I think I could do better. So on week 4, I was determined to clean up my eating and I believe that makes the biggest difference in my progress. To give you some background, I am never a horrible eater who only likes junk food and deep fried stuff so in general, I eat pretty healthful. Also, we, as family of 5, it is difficult to eat out every night not to mention how expensive it will be, so we cook majority of the time.
But if I were to nitpick my diet throughout these past 3 weeks, I can say I wasn't eating too clean. During the day when I was taking care of the kids, I was making pretty good healthy choices. My problem began at night when my twins are asleep and when I can finally spend some quality time with my husband. After dinner, when we enjoy our favourite tv show, we like to snack and those snacking really take a toll on my progress.
Here's what I learned this week about eating:
If you want to lose fat and build muscle, 80% of the work is on eating and only 20% is on exercise.
Eat to nourish my body the right way. For example, after my workout, I will have some protein rich food like eggs or protein shake
Portion control is key – Nibble on smaller meal frequently is much better than eating a big meal on one sitting.
Have healthy snacks available at home at all time
Gradually cut out bad snacks instead of cutting them out cold turkey – You should gradually eliminate bad snacks, the less you eat, the less you will crave them.
Allow one cheat meal a week not a cheat meal day –  It is important to allow some slack because we are human, we have a social life so it is ok to eat out with your friends once in awhile. Honestly, there's no point having the best body but you can't enjoy life.
**As I continue through this journey, I will add to this list so I can share with you all what I have learned.
Progress Pictures Update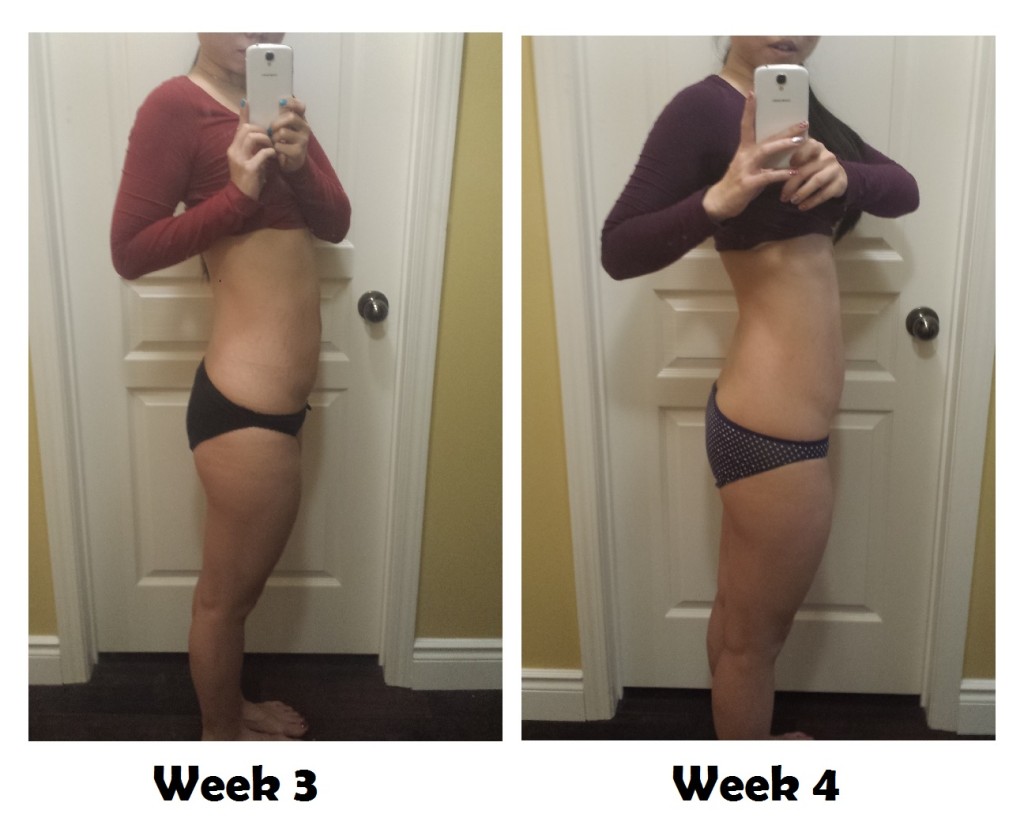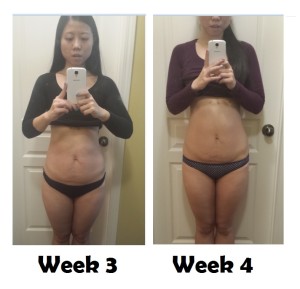 I believe my clean eating this week really makes a difference in the progress. As you can see in the profile shot, my waist got smaller and I think my posture got better too. The curve of my back looks much better and my butt looks perkier. All in all, my figure looks more womanly.
As for my front belly shot, I think my stomach got a little tighter in the past week. The most obviously is at the naval area, you can tell that my belly button is more defined and the waist went in a little bit too.

What's Next?
My goal for next week is to continue to eat clean. If you guys are interested, I can post some healthy dinner recipes. So please like my GlitterMommy Facebook Page to get the latest update. I also previewed my week 5 Kayla's BBG workout, it's going to be a challenge. I will update how my workout goes on my GlitterMommy Facebook Page.
Good luck all and remember to stay active during this nice weather!!!!