Hi my beautiful sunshine! Welcome to week 3 of Fitness Friday. Are you guys as excited as I am? The weather is finally getting warmer, I can't wait to do some outdoor exercises. Honestly Canadian weather is way too long. Tell me what your favourite outdoor activities are in the comment down below or on my GlitterMommy Facebook Page. This spring/summer let's inspire each other to be active.
Back to what exercise I have done this week:
Monday – Kayla's BBG Week 3 Day 1
Tuesday – Stroller Fit with The Fit Life with Tabitha
Wednesday – Kayla's BBG Week 3 Day 2
Thursday – Stroller Fit with The Fit Life with Tabitha
Friday – Kayla's BBG Week 3 Day 3
The 3rd week of Kayla's workout is the same workout as week 1. I can definitely tell I am getting stronger because I can finish the reps faster with better forms.
How I Stay Motivate?
By the 3rd week of this challenge, I feel that this exercise routine is becoming a habit instead of a chore. I look forward to doing them. Of course, there's still time when I feel unmotivated, and this is what I do to get motivated again:
Remind myself how awesome it feels after the workout
Plan my exercise as one of the things to do for the day. I book it in my calender like it is a doctor's appointment so I have to follow through with it.
Allow slack time for my workout. Let's say my workout is 30 minutes so I budget 45 minutes so I have time to put on shoes or if my kids need me in between, I can still tend to their needs.
Share your fitness goal with your family and friends so hopefully they can help you make healthy choices
Things happen and sometimes I might not have a chance to do my workout at my scheduled time so I will try to do it at a later time or even push it to the next day. So instead of working out Monday to Friday, I might do workout Monday, Tuesday, Wednesday, Friday, Saturday to make it up.
Progress Update
Here's my progress picture of end of week 3: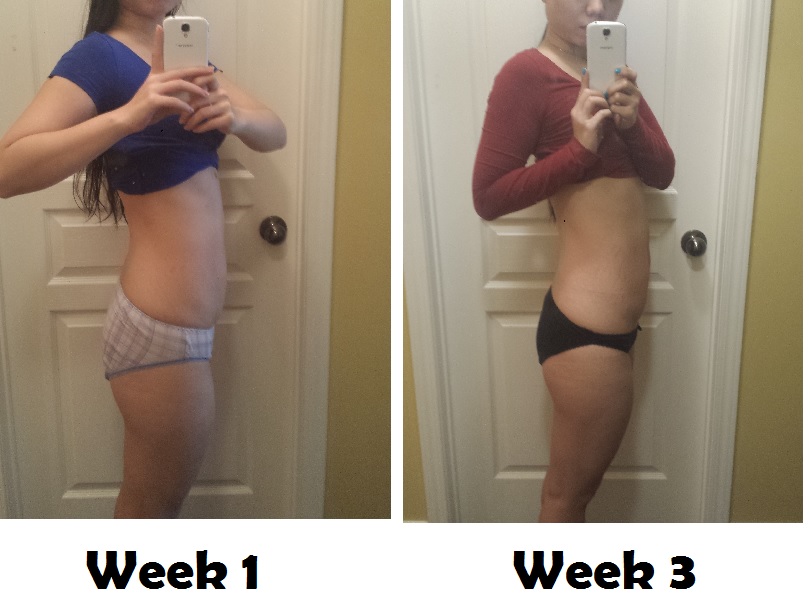 With this updated Week 3 picture, I can see that my tummy got a little flatter and my thighs look more toned. I can't wait to start next week's workout and see how my body respond to it.
Here's the updated progress pictures from week 0 to end of week 3: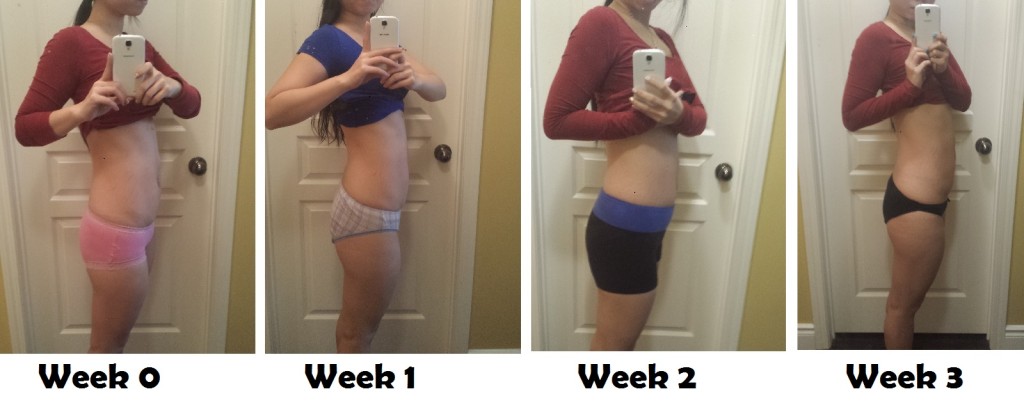 I understand it's only 3 weeks, so I haven't seen a substantial difference nor I expect it to be. I always remind myself that this journey is all about getting stronger and toner hence I might put on a few pounds. I truly believe the number on the scale is misleading, what's important is how your clothes fit and how you feel about yourself.
Also I would like to shout out to people out there who are doing any type of exercise routine. Keep it up!!! You are doing good for your body and taking care of your health.  Remember motivation can only get you started but habits are here to stay.
Have a wonderful night!!