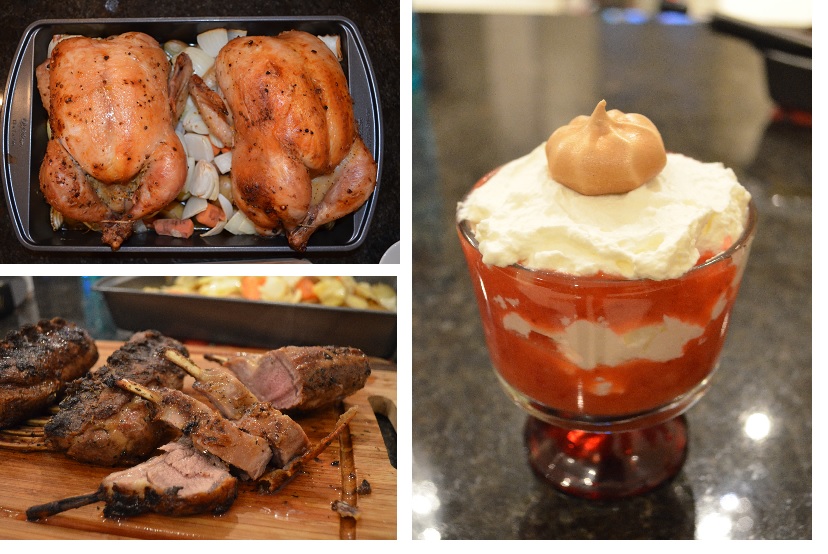 This is what I have done to complete the big Christmas Dinner:
First thing in the morning, I turned the chickens around so the other side can be marinated as well. Then I took out about 5 cups of frozen strawberry for the dessert later tonight.  We decided we are going to have dinner at around 6:30pm so I began the cooking at 4pm.
Firstly, I took the chickens out of the brine and use paper towel to pad them dry.  Then I started to mix the rub for the chickens.  I used olive oil, sage, black pepper and poultry seasoning to rub onto the skin of the chickens.  I also chopped onions, carrots and potatoes to line the bottom of the baking pan then place the rubbed chickens on top.  Set the oven at 350ºF and bake the chickens for 45 minutes and then turn the pan around to get even cooking.  Let the chickens bake for another 45 minutes.  You know the chicken is done when you cut the chicken leg and the juices run clear.
As for the rack of lamb, I started to cook them 20 minutes before the chicken is ready.  I also mixed my own rub with olive oil, salt, black pepper, rosemary and dried basil.  I put the rub mixture on all sides of the rack and pan fried them in a really hot pan under high heat for about 6 to 8 minutes on each side.  Once that is done, I put them into the oven and let them bake for another 10 minutes and it is done to medium rare to medium.
The dessert is even easier, 10 minutes before I serve them, I began to whip the cream to make them become whipped cream which takes about 10 minutes using a hand electric mixer.  Using a potato masher, I mashed the strawberries and added about 4 tbs of sugar.  Once those ingredients are prepped then we can assemble the dessert.  In a small parfait cup, put one layer of mashed strawberries then one layer of whipped cream and repeat one more time. Finally top the parfait with the meringue cookies that I made the night before and the dessert is done!!!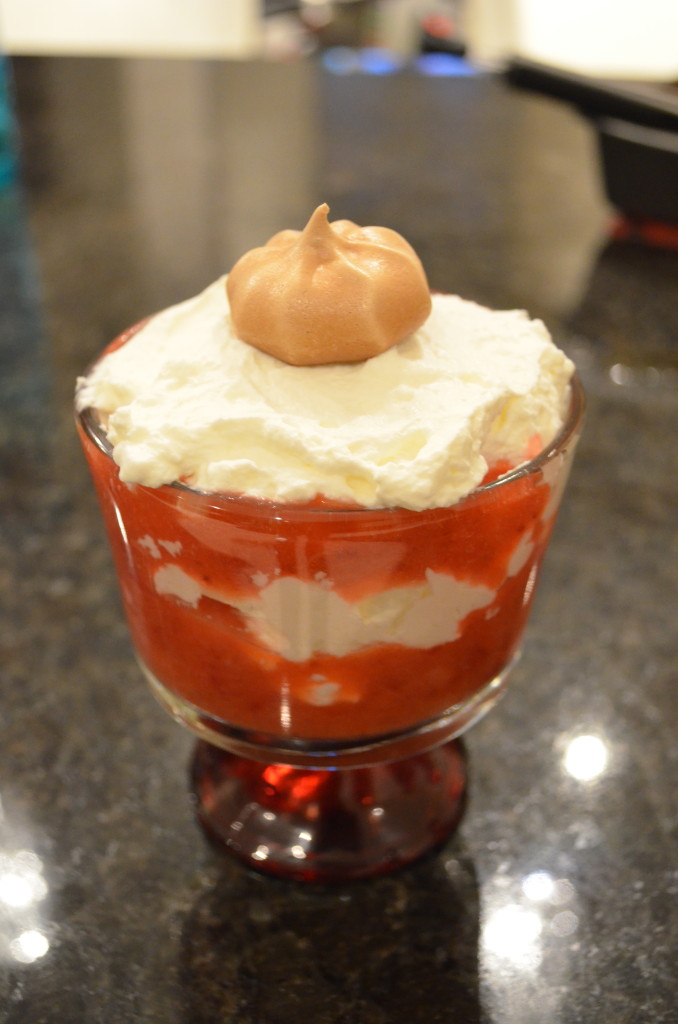 Thank you very much for reading!  Good luck and enjoy the rest of the holiday!