Merry Christmas Everyone!  This year we are hosting the Christmas dinner for 8 people (5 adults and 3 kids) and my family is never a big fan of turkey so we decided we are going to change it up and make chicken and lamb instead.  As for dessert, my husband requested me to make Strawberry Cream Parfait.   I broke this big production into 2 parts so I don't have to stress on the day of.  Here's what I have done the night before Christmas:
The first thing I did on Christmas Eve is to brine the chickens.  Brining means to soak your ingredients into salt water bath.   My husband HATES dry chicken and I know this is the only way to make it nice and juicy.  Here's what I have used for brining 2 chickens:
~ 10 cups of water
3/4 cup of salt
1/2 cup of sugar
1/2 cup of soy sauce
3 tbs of whole black pepper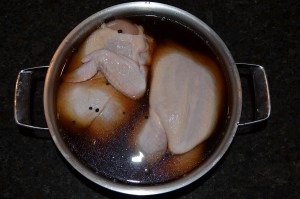 Unfortunately, I don't have a container that is big enough to fit both the chickens and the water bath hence some parts of the chicken aren't completely submerge into the marinated water.  After you have done that, you just have to put the whole container in the fridge and worry about it tomorrow.  The next morning, I turned the chickens around so all the sides can be marinated.  If you have a container that's big enough, you don't even have to worry about turning the chickens around.
I love to make the Strawberry Cream Parfait for a dinner party because it doesn't take a lo of time and it's super easy to assemble.  The only thing that you have to make ahead of time is the Meringue cookies so I followed the recipe from allrecipes.ca to make them and you can find the recipe here.  The recipe is really simple and it only requires 2 ingredients.
The meringue cookies look a little too burnt for my liking but they taste fine so I kept them.  Interestingly enough these brown meringue contrasted with the rest of the dessert really well and you will see them on part 2 of the post.  That's all I have done on Christmas Eve and I will share with you how I finish the meal tomorrow.
Thank you very much for reading and I will see you guys tomorrow.  Merry Christmas again and goodnight!