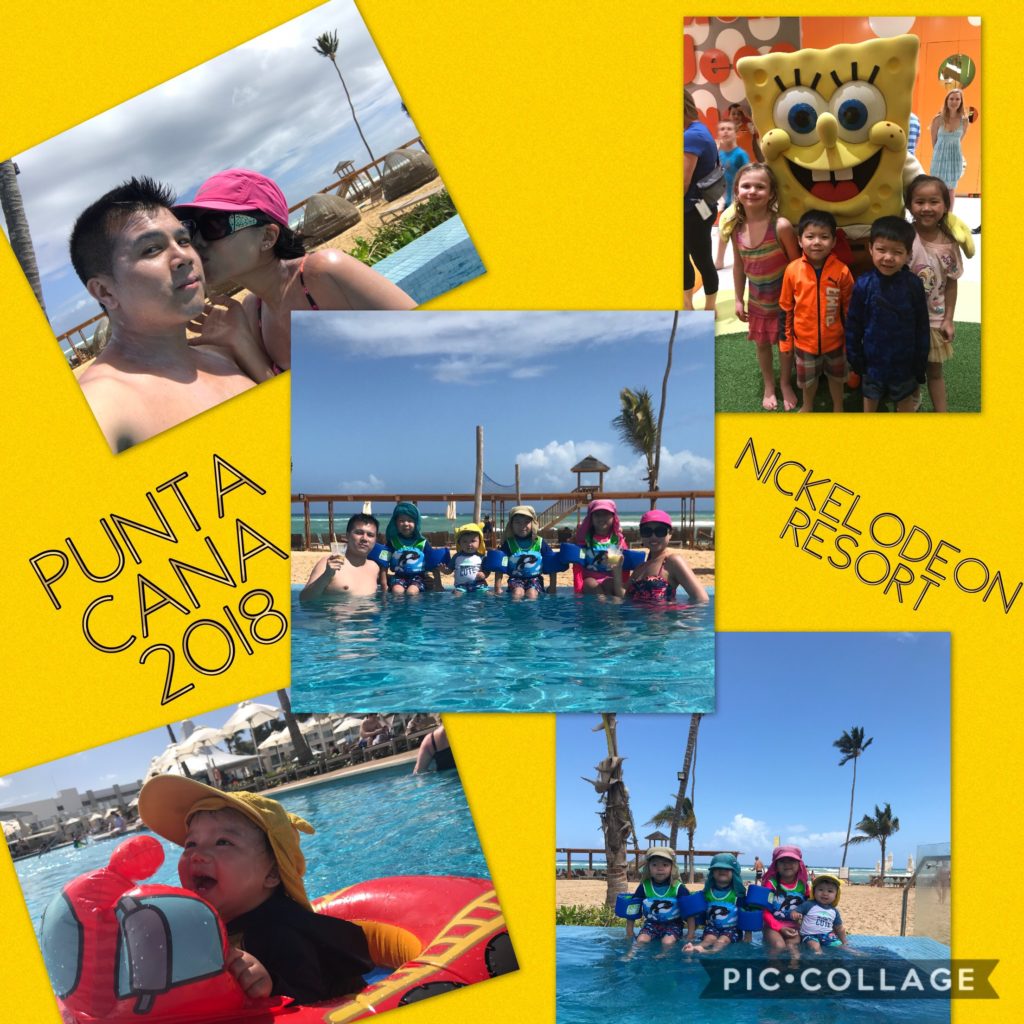 Hello my awesome GlitterFriends, if you follow me on my social media, you know we just came back from a 7 day Punta Cana trip for our family of 6. It was so fun that my husband and I are planning to go on an all-inclusive vacation every year. The reason why we picked Nickelodeon resort is because I know my kids are going to have a blast seeing their favourite characters (my twins love ninja turtles but my daughter is just happy to see any characters).
In this blog post, I am going to share with you every step of our journey from packing, going to the airport to coming home so you can see all the nitty gritty details of them all. Don't worry, I won't be giving you a 10 page essay to read (seriously who has time for it). I will break them down in categories and either in small paragraphs or in point form so it's easy to read and you can pick and choose what you need to know.
Packing for the trip
I know a lot of you must be thinking taking 4 kids to a trip must be a pain. To be honest, after this vacation, I feel like our family can be pretty mobile and we are looking forward to taking them to more places. My kids are current, 6, 4, 4, and 1 so the older kids can definitely take care of their own luggage. In order to do so,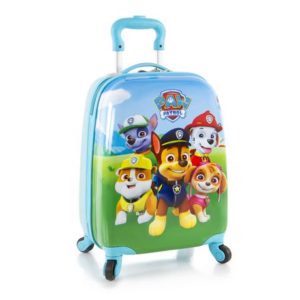 I got them their own spinner luggage. The actual took care of their luggage the entire trip by themselves. And these Heys' ones are perfect size for their little body and also perfect as a carry on. We only checked 2 luggage between the 6 of us because of my skin care, diapers and such. If you guys want a more in depth blog post about what I pack for our vacation, please comment below so I know.
Tips:
Quick Link: https://www.walmart.ca/en/ip/heys-paw-patrol-kids-spinner-luggage/6000196253997
Going to the Airport
For this Punta Cana trip, our agent booked an Air Transat package so we are leaving from the Toronto Pearson Airport. Since we have 4 kids, I would like it to be as convenient as possible. My ideal choice would be someone to drop us off or pick us up but with 4 kids with car seats it's nearly impossible. Therefore my husband decided to do Daily Parking at the Terminal. We like this option the best is because we don't like valeting our car, secondly we want to make sure the car is covered since we are leaving in the middle of winter. It all worked out very well from the beginning to end.
Tips:
Call ahead to make reservation
Ask them for a discount code (We got ours when we called so doesn't hurt to try)
Arrive at Toronto Pearson Airport at least 2 hours before your flight
Quick Link: https://www.torontopearson.com/en/Daily_Park/#
Arriving at the Punta Cana Airport
No air conditioning for the most part but pretty airy
No need to line up for anything. Once you got your luggage, you can pretty much go through with no problem.
With the Air Transat package, there is absolutely no need to line up to ask where our transitioning buses are
Go out to the bus terminal and look for people with Air Transat uniform and you will find your bus to the resort
Punta Cana Airport to Nickelodeon Resort takes about 35 minutes
Arriving at the Nickelodeon Resort
Bus dropped us off at the main lobby
Register at front desk
Drivers with golf carts will take you and your luggage to your room
The whole process took about 20 to 30 minutes
There is a play area for the kids at the lobby while you register (TVs and toys)
They even serve us champagne and the kid cute fruity drinks while we wait
Stroller is available upon request
Check in at 3pm and check out is 11am
Nickelodeon Resort
Accommodation
We booked the Flat Suite and here's the description from their website: "Each Flat Suite includes a high top bar for dining, a living area, a master suite, and a marble-clad bath with free-standing tub. The living room is complete with a pull-out sofa bed, 46-inch Smart TV and dining room area. Your Flat Suite also features a furnished private balcony, including a round daybed for lounging, napping or cuddling in the moonlight."
Pros:
Love the extra tub in the bathroom. Perfect to shower off my kids.
I love to be able to close the master bedroom so even if the kids wake up early and play, I can still sleep a little longer (Like 5 minutes lol)
Crib is available upon request
Love the size of the balcony (I worked out there and decorated to take pictures for my son's 1st birthday
There are golf cart shuttles everywhere so if your little one can't walk so far, you can always wait for a shuttle
Cons:
Sofa bed for the kids is uncomfortable (but no complains from my kids)
Some day they didn't do their room service (cleaning of the room) fast enough. They missed 2 days throughout our 7 days stay
Room service food delivery is pretty slow (It took 45 minutes so we gave up and walked to the buffet)
Need more garbage cans – there were only 1 in the entire room which is in the bathroom
Food
We have tried almost all the restaurants/bars/coffee shops at the resort except for the adults only ones (Kitchen 23) so I think I can offer quite a good overall review of the restaurants there.
Most of the restaurants are located in the main gourmet village which is about a 5 minutes walk from our room.

Sugarcane
Cuisine: Latin America Buffet

Reservation not required

Open for Breakfast from 6:30am to 11am, Lunch from 12:30pm to 3:30pm, Dinner 5:30pm to 10pm
It has an indoor and outdoor adults only section
Dress Code: Casual. It says on the website you need to wear dresses and long pants, etc. I have been there wearing my tankini and they are totally fine. As long as you are somewhat covered, they will let you in
The only restaurant opens for breakfast with hot food
Verdict:
6 out of 10 – It is not a bad buffet with tons of varieties, there are many items designed for the picky eaters. There are always fruits and grilled veggies at every meal which I enjoy
We ate majority of our meals here because of the variety
I don't feel that the seafood is that fresh and tasty. I expected more
Nothing really wow me but it's super easy with kids as it has a lot of varieties.
Always guarantee to have a spot there, as it is a huge restaurant with 2 levels
Verdello
Sicilian kitchen

Reservation Required

Open 6 days a week. Dinner only from 6pm to 10pm
Dress Code: It is a pretty fancy restaurant so I would follow their dress code from the website: "

LADIES: 

Capri pants, dresses, skirts, long pants, shoes, dress sandals. 

GENTLEMEN: 

Long pants, collared shirts, dress sandals, casual shoes, dressy or formal Bermuda shorts – I wore flip flops going in with no problem but I was a little sheepish
Verdict: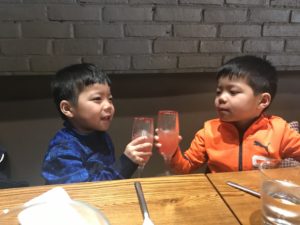 7 out of 10 – Food is quite decent there and the presentation of the food is pretty good. It's not the best restaurant I have ever been but definitely the best restaurant in the whole resort in my opinion.
As soon as we sit down, they immediately offer their welcome drinks to both adults (Cocktail) and kid friendly drinks which made my kids feel pretty special.
Appetizer's portion size is rather small but it's an all inclusive resort, you can order as many as you want.
They have quite a range of food in their menu, from vegetarian dishes, pasta, beef and a couple types of fish.
BRGRS.PH
Cuisine: Burgers

Reservation is accepted but not required

Lunch 12pm to 2:30pm, Dinner 6pm to 10pm, Open 6 days a week
Dress Code: Casual – Just don't be topless or with bikini bottoms, you will be fine.
Verdict:
5 out of 10
Service was really fast at the beginning but then it took a really long time to get the other orders out. Appetizers were coming extremely fast then our main course took at least 45 minutes and we had to remind them 3 times.
The burgers weren't out of this world (at least not in Dominican). The patties on the dry side because they overcooked them.
I ordered a salad and it never came
The only burger that actually tasted ok is my daughter's steak and egg burger (see pic on right) because the meat wasn't overcooked.
Another item that's worth trying is their cheesecake sundae. It looks amazing but my husband isn't a fan of it because he said it has too much cheesecake in it but I guess it would be fine with cheesecake lovers.
We will not go back to BRGS PH
Spacewalker

Cuisine: International Space Dinning (I honestly don't know what they mean) – To me, they are just American food 🙂

Reservation Required

Open 6 days a week, 6pm to 10pm
Dress Code: Casual, again as long as you are not topless, they will let you in.
Verdict:
4 out of 10 – The menu is space themed so I am not even sure what we were ordering
Mainly American food, so there's pasta, steak and also kids' menu is available.
Food came out really slow (I think our servers forgot to take out our orders). The food didn't come until we decide to go back to Sugarcane because the kids were starving
My husband and his pal stayed and tried the steaks and said it was not bad
We will not go back to Spacewalker
Wok Wok
Cuisine: Far East Fusion (I am asian and I don't even know what that means) I guess it's Americanized Asian food
Reservation Required
Open 6 days a week, Dinner 6pm to 10pm
Dress Code: LADIES: Capri pants, dresses, skirts, long pants, shoes, dress sandals

GENTLEMEN: 

Long pants, collared shirts, dress sandals, casual shoes, dressy or formal Bermuda shorts
Verdict:
2 out of 10 – The worst restaurant in the whole resort
Menu includes pad thai, rice and beef and chicken satay
Most of the main courses are spicy so they aren't kids' friendly meal
After we had our dinner there, we had to go back to Sugarcane for a second dinner because the kids didn't eat at all
We will not go back to Wok Wok
Doppio 
Cuisine: Coffee Shop

Reservation is Not Required

Open 7 days, 7am to 10pm
Dress Code: Casual
Verdict:
7 out of 10 – This is a very good coffee shop that offers beyond coffee
Love the fresh smoothies that they prepare. (You can tell it's all from fresh vegetable and fruit) I always grab one after my workout
Tons of dessert to choose from and everyday is different – they have chocolate cake, red velvet cake, carrot cake and oreo cake and my favourite is the carrot cake
They also have a lot of different types of cookies, chocolate chips cookies, butter cookies, macaroons, and peanut butter cookies.
It is the only facility that offers decaf coffee so I usually grab them before I go into Sugarcane for breakfast
I will definitely go back
Zest
Cuisine: Mediterranean
Location: Nickelodeon Beach

Reservation Not Required

Dress Code: Casualish – as long as you are not topless and with bikini bottom you will be fine but the website tells you otherwise (seriously who wears a dress and khaki to the pool and beach??)
Verdict:
4 out of 10 – again nothing really wow me, and it isn't really Mediterranean food anyway (can't find a greek salad anywhere lol)
They have pretty good braised ribs when I was there
The self serve nachos wasn't impressive. It was just mediocre
Fruits, Pasta and Pizza are available there which pleases the kids
This is the restaurant where you do the character breakfast
Aqua Bite
Cuisine: American fried food
Location: located at Aqua Nick (waterpark)

Reservation Not Required

Open 7 days, 10am to 5pm
Dress Code: Casual – it is located right beside the waterpark so they don't really care what you wear
Verdict:
3 out of 10 – mainly deep fried food that we have no interest in
Interesting seating area – chairs are swings so the younger kids might have difficulty staying on the seat
Ice cream, alcohol and soft drinks are available
I would go back to get water and ice cream for the kids as Aqua bite is the only place that offer those
I would not go back for food
Available Facilities/Services

Aqua Nick 
Located in the west side of the resort – About a 5 minutes walk from the Gourmet Village
NO EXTRA COST
It has water slides, splash pads, spray grounds and lazy river.
The waterpark is rather small in my opinion.
Not enough big slides for older kids. I would say if your kids are 10 or older, the slides won't be exciting enough for them
Lazy river is very slow lol We are stuck at a lot of locations. My kids had to get out of the floatie and push me a few times.
Splash pads was fun for the younger kids
Infinity Pool
The Infinity Pool is located on the east side of the resort
The pool overlooks the ocean
The entire pool has the same depth at 1.2m (about 4 feet)
There is a swim up bar there too
Our family had a blast playing in the pool. We spent majority of the time there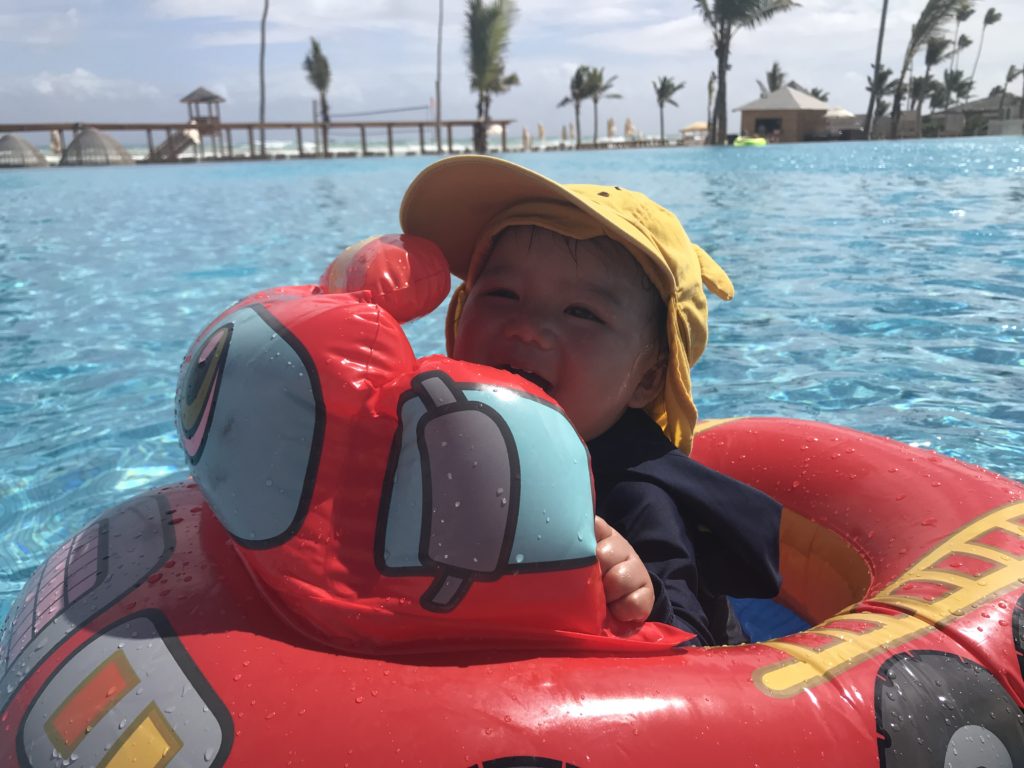 Beach
Located on the east end of the resort
It's a private beach so no one except for the people at the resort can use it
We went in February, the wind there is quite strong
Waves were pretty strong as well so it's not so much for swimming but to crash waves
I had to constantly check on the kiddos since the waves were pretty strong
My youngest boy wasn't too fond of the ocean, the sand and the waves actually scare him
Due to the strong wind and waves, I wasn't too fond of the beach area because I have to constantly keep my eyes on all kids. If we were to be with no kids, I definitely would enjoy it much more

 
Vassa Spa
Location: In the Gourmet Village right beside the fitness centre.
Cost: Extra $$$, not included in the all inclusive
Tons of services available and you can check out what services they offer here
I didn't personally did a massage there so I can't judge how good they are but I found them kind of pricey as everything is in USD. I think a 45 minutes massage which include changing time was $150 USD
Fitness Centre/Dance Studio
Located within the Gourmet Village
NO EXTRA COST
Opens 24 hours
Water and towels are available at the gym
I personally quite enjoy the gym because I can use the heavier weights that I don't have at home
There is a Dance Studio two doors down from the gym and I believe they host classes there but I have never tried the classes so I can't comment on whether they are good or not
Just Kidding
Located in Aqua Nick (Waterpark)
NO EXTRA COST
Supervised activities for kids from age 4 to 12
It has a huge ball pit, 2 storey slides and a video gaming area
It also has supervised activities that are led by staff there such as making slime, doing science experiments, cooking, crafting and exercising.
It opens Monday to Sunday 9am to 5pm then from 7pm to 9:30pm
My kids didn't go in because they prefer to go to Aqua Nick (Waterpark) instead so I can't comment how good or bad this is
But the activities they offer seems to be pretty fun. For example, they offer kids' yoga , crazy tag, making energy bar, making Dora's backpack and making volcano, etc.
Sports Hub
Located in the west side of the resort
NO EXTRA COST
According to the website, there is tennis, archery, basketball, soccer, giant chess and a clubhouse with ping-pong, foosball and a lounge area
We have never been because we were busy enough in the main resort area and the Aqua Nick
Good options for people who like more on land activities
FREE Entertainment/Activities
I am only going to talk about activities that we have actually participated and I will upload the Week at a Glance Highlights information sheet here so you can see what other activities they offer during our stay. (Tuesday to Tuesday)
Please note that NOT all the activities listed here is included in the cost of the stay, some will require extra costs.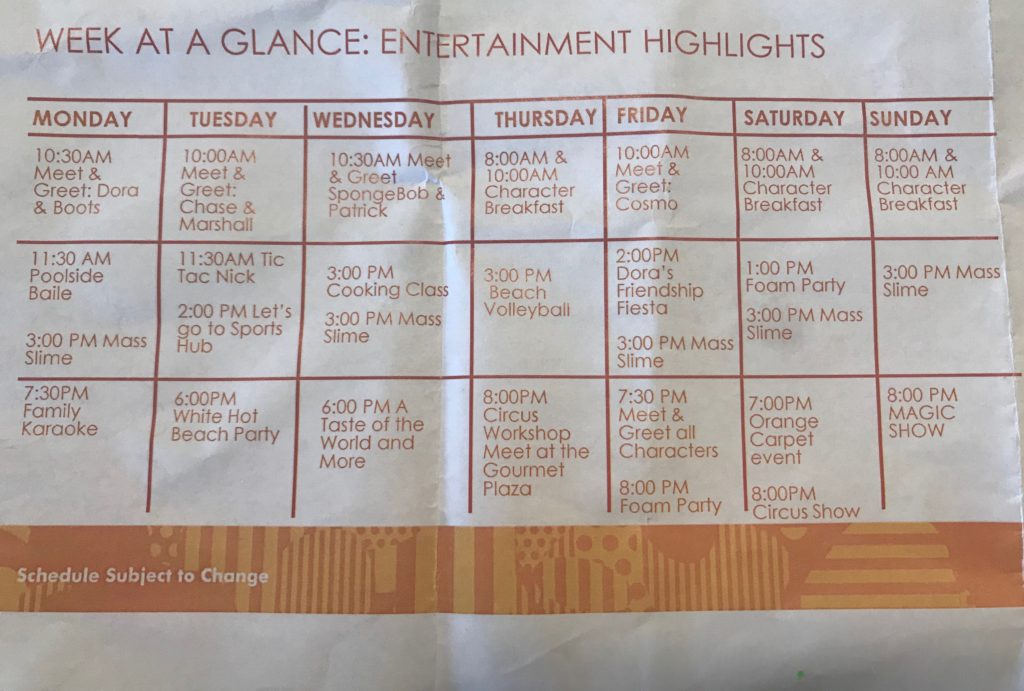 And everyday, you can go to your personal concierge to get your daily itinerary and here's an example of a schedule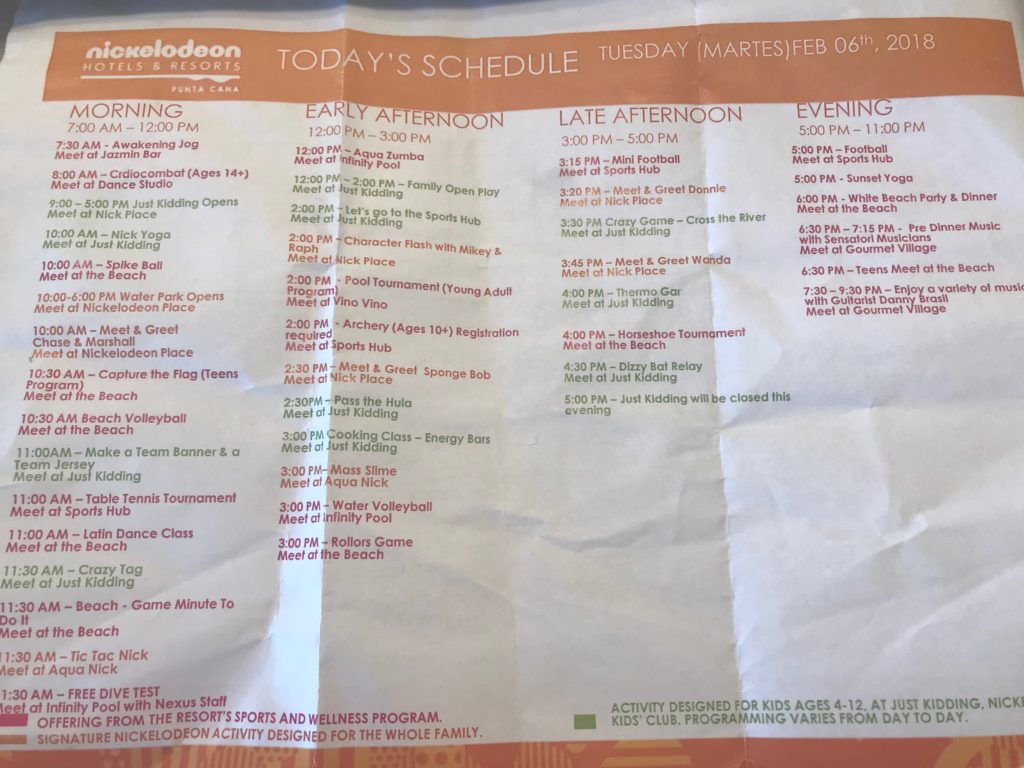 White Hot Beach Party
Located at the beach
Time: 6pm
When we went, the white hot beach party only happens on Tuesday night (which is the same day we landed and we had no idea) so we went when it was almost the end
A lot of music, dancing, and food available at the beach (Usually Sugarcane is closed for dinner on Tuesdays)
Meet and Greet all Characters
Location: Character Central (Aqua Nick Side)
Time: 7:30pm
NO EXTRA COST
You will have a chance to meet "some" characters at character central
When we were there, we only saw the 4 Ninja Turtles which is ok but if they are the only ones going to be there, please do not say it's all characters
Only happen once a week at night
Every family has 2 shots with the characters
They have professional photographer there to take professional shots and the staff can help you take pictures on your phone
Felt a little misled but it made my husband's night because Ninja Turtles are still his absolute favourite
Foam Party
Located at Aqua Nick
Time: 8pm
NO EXTRA COST
Basically they blast music and create foam for the kids/adults in the lazy river
My kids had a blast watching other people playing foam in the water but they can still get bubbles on the side of the pool
No mention of wearing swimming suit to the events so none of us got into the water
If you want to do it, either wear swimming suit there or bring a set
Orange Carpet Event
Location: Aqua Nick
Time: 7pm
NO EXTRA COST
You and your family become the VIP and be invited to take picture on the orange carpet (like a red carpet)
Professional photographer is there to take pictures for you
After we had a chance to take our pictures, the characters finally arrive
The characters that were there that night were: SpongeBob & Patrick, Dora & Boots and the 4 Ninja Turtles
They dance around with the kids for about 20 minutes then the show is over
Worth going to see most of the characters at once
My kids had a blast dancing and highfiving the ninja turles (It totally made their day)
Circus Show
Location: Plaza Orange
Time: 8pm
NO EXTRA COST
Highly recommended! The performers are amazing
The kids love watching it and it entertained and fascinated them for 30 minutes straight
Magic Show
Location: Plaza Orange
Time: 8pm
NO EXTRA COST
Amazing show again! Highly recommended! My kids love watching magic and they were memorized
Character Flashes
Location: Aqua Nick Area
Time: depends on the schedule
Everyday there are different characters that show up at Aqua Nick
Make sure you check schedule for when they will be there
There are still plenty of free activities to do but we just don't have the time the do them all!
Pros:
Majority of the shows are amazing
My kids love watching the shows
My kids love seeing the characters
The dinner and dessert they serve before the Orange Carpet Event was amazing!
Cons:
The show time is too late
Communication about what's happening about the event is not very clear. For example, tell people to wear swimming suits for the foam party. Also, there was a gorgeously delicious dinner available right before the Orange Carpet Event but no one tells us about it so we missed out on it
Some of the event is misleading like the meet all the characters event, only Ninja Turtles showed up so it isn't "ALL" characters
EXTRA COST Entertainment/Activities
Private Slime Time
Location: Aqua Nick
Cost: $50 USD for up to 4 people

RESERVATION REQUIRED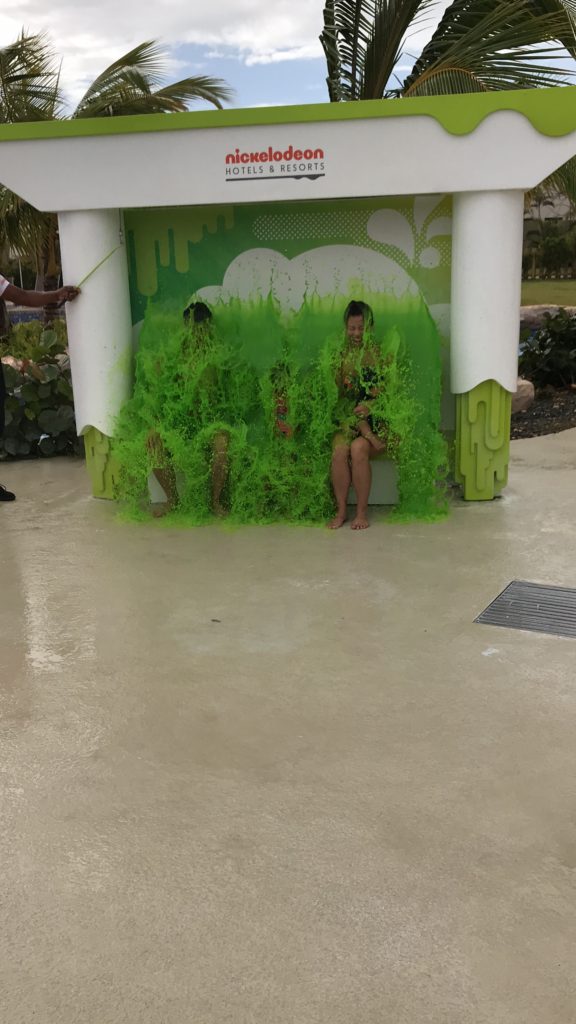 Verdict:
Definitely not worth $50 USD for 4 seconds of slime
The slime was cold and wasn't even slimy
My kids didn't really get it
The only reason why we did it is because this is a gift from our travel agent. I personally would have never buy it
***There is a Mass Slime Time that's free everyday at 3pm. If you want to do it but doesn't want to pay for it, you can do that instead. Also, you can enter the Slime lotteries and they will draw a family everyday at 10:30am for a private slime time. I don't think a lot of people know about that then you can get your private slime time for free that way too.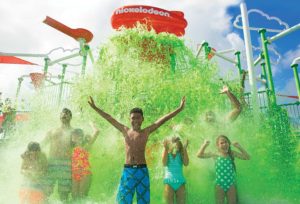 Character Breakfast
You can schedule a character breakfast with your personal concierge when you arrive
Pajama Jam

Kids can party in their PJs with their favourite characters
There will be character performances, photo opportunities, meets and greets etc.
Breakfast is provided

Turtle Power Breakfast

All 4 turtles will be there to party with the kids
They will teach the kids some ninja moves, have some photo opportunities and meets and greets etc
Here's the schedule and pricing for the breakfasts:
Thursdays:

10:00 am TMNT Turtle Power Breakfast

Saturdays:

8:00 am Pajama Jam
10:00 am Pajama Jam

Sundays:

8:00 am Pajama Jam
10:00 am Pajama Jam
Verdict:
We personally didn't do any of the breakfasts so I can't tell you whether or not they are good
Too expensive for our family of 6 for just a breakfast. Pajama Jam would've costed us over $170 USD and the Ninja Turtles breakfast would've costed us $117 USD
Leaving Punta Cana
The resort will arrange shuttle back to the airport
You really NEED 3 hours before your fight leaves
There are huge line up checking in the luggages and at custom
Make sure you have a pen with you to fill out the custom form for leaving Punta Cana. When we were there, there were absolutely no pens available. And it is one form per person so there's no family form. I had to do 6 and it takes time
Final Verdict
Pros:
Overall we really enjoyed our vacation, especially for me since I don't have to clean or cook
Having 4 kids, all inclusive is the way to go for us because it's predictable costs
My kids had a blast
Love that there are a lot of fresh fruits, and fresh fruit juice available
Love that they even provide food pouches for babies (none organic Heinz ones)
Bottle water and drinks are available in all bars and restaurant
Golf cart shuttle is available everywhere
The infinity pool is gorgeous
Wifi signal is pretty strong throughout the resort
The room is pretty sound proof
Cons:
The kids' shows are a little late, usually starts at 7:30pm or later
The food is just average, nothing extraordinary
Waterpark (Aqua Nick) could be bigger with more water slides
The resort should provide guests with map so they know where places are. When we were there for the first time, we had no idea where everything is
Resort should also provide a list of restaurants available on the resort including their opening and closing time
Daily schedule isn't available to be grab everywhere. You need to go to the concierge building to get them
Some events/activities were omitted in the daily schedule
We want to see more Nickelodeon characters in the resort
Kids'life jackets aren't available – so I packed my own
Not everywhere is stroller accessible
There were only 2 theme stores at the resort and their selection is not complete
Important Tips!!!
Book all restaurant reservations with your personal concierge the first day you arrive!! They fill up fast
Don't need to bring water, there are bottle water available everywhere
Bring your own life jackets and floaties if your kids can't swim, there were none available
Strollers are available at the resort but you need to book it in advance (talk to your travel agent)
Bring a baby carrier if you have little ones, we find it easier to navigate
Bring USD for tips and purchasing products
Make sure you talk to your personal concierge everyday before you start your day so you can get the latest and greatest
Make sure you arrive at the Punta Cana airport 3 hours before your schedule plane. (We barely made it in time with 3 hours)
Make sure you have a pen with you to fill out custom forms leaving Punta Cana
THE MOST IMPORTANT OF THEM ALL IS TO HAVE FUNNNNN!!!!!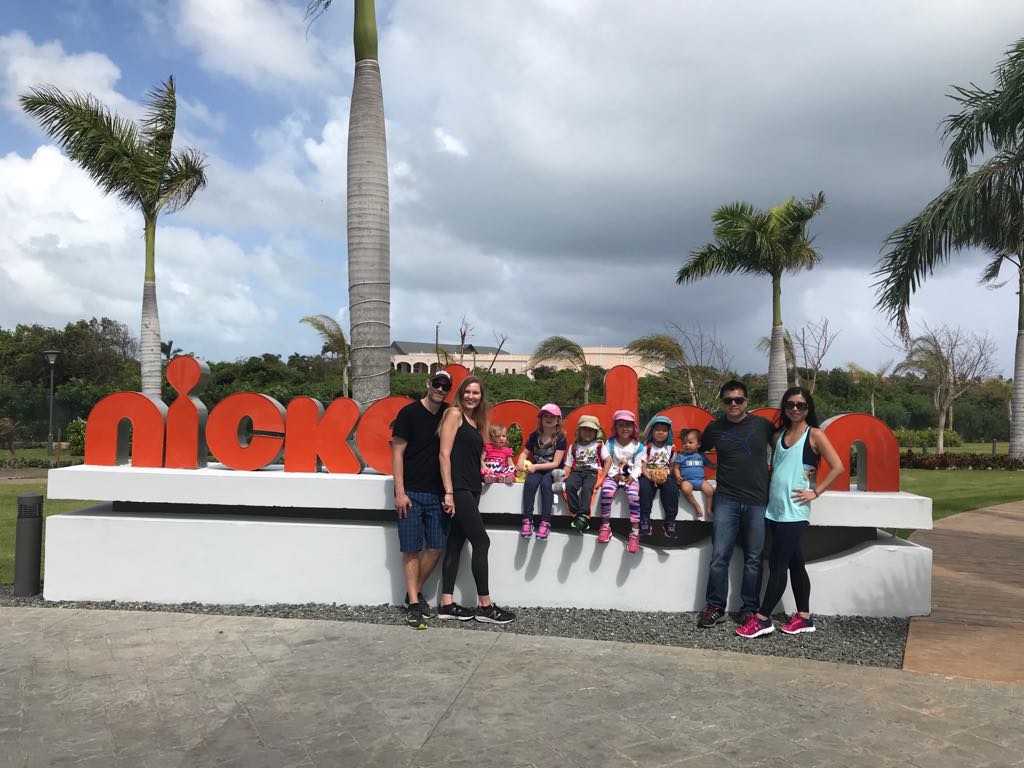 I hope you guys find this helpful! Let me know in the comments what else you want to know about our trip! I am more than happy to answer them for you! The best place to reach me would be my GlitterMommy Facebook page! Please like and follow me there!  Until then, I will see you in the next blog post!!!!
XOXO
GlitterMommy